Approach to Learning
Our primary aim in all the Bedales Schools is to develop inquisitive thinkers with a love of learning who cherish independent thought.
John Badley, our founder, believed that involving "head, hand and heart" was the key to growth and development. This is still the cornerstone around which our innovative education system is built. A high percentage of students' learning occurs within the classroom – and not just in the "head" sense – but an immense range also takes place elsewhere. See how we do this at Bedales, Dunhurst and Dunannie.
Bedales started in 1893 with a determination to be different and to educate 'Head, Hand and Heart'. 
The Bedales vision is shaped partly by Badley's ideals but it also recognises the strong Badley view that schools like ours must evolve and re-define themselves.  We must respond to the external environment in two distinct ways – the first is common to all schools, the second much less so: we must provide a suitable preparation for life after school and for the world of work; but also, if we are to keep faith with our tradition, we must also seek to overturn influences and tendencies in society that damage children's development and welfare.  This is in keeping with Badley's desire to ensure that, from its founding, Bedales was a counter to the regimented and philistine schools that he saw predominating in late Victorian England.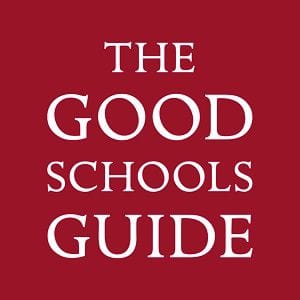 The Bedales approach as outlined below is therefore a mixture of ways in which we have always been different (and will continue to be so) and ways in which we are responding to external pressures. Whether you are reading this as a parent, a current or future member of staff or as a present or former student, we hope that it chimes both with what you thought the school stood for – and for what you think it should stand for in future.  Everything here refers to the 3-18 Bedales Schools. 
Read the Bedales review on the Good Schools Guide by clicking on the logo to the right, click here to read the review for Dunhurst and Dunannie.
Aim 1
To develop inquisitive thinkers with a love of learning who cherish independent thought
We aim to create an environment where questioning, divergent thinking and the freedom to learn from mistakes are all encouraged.  First rate teaching and learning, with formative and summative assessment, must underpin academic excellence.  These qualities, which create lifelong learners and develop both critical and creative thinking, should permeate every area of our lives – whether that be in assemblies, conversations or classrooms.  In a national educational environment, where schools are more constrained by exams than ever before, this need is especially important.  We are committed to imbuing in all our children these qualities: responsibility for their own learning, good work habits and a sense that learning can thrill and invigorate.
Aim 2
To enable students' talents to develop through doing and making
Great value has always been attached to first-hand experience at our schools. This aim means that excellent resources and ample time are provided for creative and practical activities. When the school moved to its present site the students were involved in making the main school building.  For our students, the ability to be involved in practical spheres – "hand work" as opposed to "head work" in Badley's terms - pushed the outdoor work to the fore.  Sport has also played an increasing role in the school's life.  We believe that within the curriculum hands-on experience should infuse our students' learning.
Aim 3
To foster individuality and encourage initiative, creativity and the appreciation of the beautiful
We see these qualities as both being life-enhancing and increasingly valued in a world of work where a premium is put on intellectual capital and creativity.  Individuality must flourish, but within a clear moral structure: there must be a good balance between the rights of the individual and the individual's responsibility to the community.  Whilst the boarding experience at Bedales and Dunhurst especially helps boarders learn this balance, the shared sense of purpose between boarders and day students allows this experience to be common to all.  The opportunities for leadership encourage the problem-solving initiative-taker.  We seek all opportunities to develop the connection between the moral, spiritual and aesthetic capacities of our students through contributing to the community via such events as music, drama, Outdoor Work and student-led enterprises.
Aim 4
To enable students, former students, parents and staff to take pride in the community's distinctiveness and to feel valued and nourished by the community
Central to our schools' success is the sense that each person is a member of the community whose voice is entitled to be heard and be treated with respect.  Staff and students expect of each other the best kind of relationships - co-operative, authentic, trustful and tolerant ones.  In this respect the school community and environment should enable all members of the community to feel that they are learning and developing.
Aim 5
To foster interest beyond the school: engaging with the local community and developing a national and international awareness
We see interaction with the world beyond the school gates as central to the values of kindness, fellow-feeling and co-operation that underpin the humanity of our community.  With this in mind, students have age-appropriate opportunities to work alongside others, locally, nationally and globally.
The Bedales Difference booklet
See the Bedales Difference booklet, which provides more detail on the distinctiveness of the Bedales approach. 
The Bedales Difference Film
Through members of the Bedales community - students and staff, past and present – the film discusses collectively the ethos of the three Bedales schools, founded in 1893 by John Haden Badley to provide an alternative to the austere Victorian boarding schools of the day. The accompanying music was written and performed by Ben Harlan, Bedales Prep School Director of Music, and performed by a band of students, staff and alumni.
                  .
More on Bedales Senior School, 13-18 years
More on Bedales Prep School, Dunhurst, 8-13 years
More on Bedales Pre-prep School, Dunannie, 2yrs 9 months - 8 years